Featured Builder – Loopi Pedals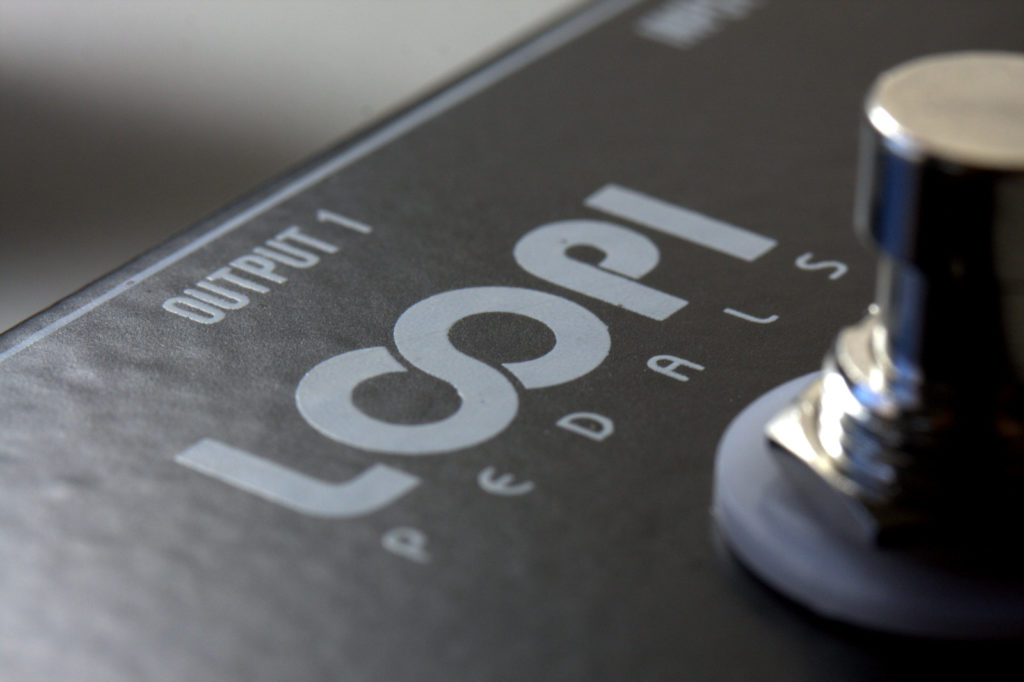 The last few weeks we have looked at Bondi Effects and other builders who make pedals that make noises, this week however we are looking at the complete opposite. Bryce, from Loopi Pedals, was nice enough to answer some questions about his company. A pedal that doesn't make sound you ask, is this some kind of new hipster, gluten free pedal? Nope, Loopi pedals are functional pedals, pedals that make switching easier, or tap tempo, but I'll leave it to Bryce to explain a bit more about the company.
So, what was the idea behind Loopi? It seems that all of your products aim to increase the usability of current pedals, and help the musician with the process of making music, what was the idea behind this?
I started the company out of a simple need that I wanted a pedal that the market couldn't provide me easily. I was preparing for some gigs and my acoustic guitarist and I were talking about what we would play, and decided that he should play some hollow-body electric parts for some of the songs in the set. This would require some kind of switching box to switch between the 2 guitars as we cycle through songs very quickly without breaks. After discovering that what we were after was an AB switching pedal, we proceeded to try and find one to purchase. Unfortunately, we really didn't find anything that we thought we could get in time for the gig. Now since I've been building my own pedals and bypass strips for over a decade, my father is an electronic engineer so electronics and soldering is second nature to me, I figured I'd just whip one up out of some parts I had. Thus started Loopi Pedals.
It quickly occurred to me that this area of utility pedals was something that was missing as I was continually asked to create new products like amp switches, patch boxes and aux pedals. This became my focus to provide musos with pedals that would expand their ability to make music and make it easier to control what they have as well as making something that is hard wearing and generally smaller than the official aux pedals.
What are some of your best sellers at the moment?
Some of our best sellers are our A-B-Y switching pedal and our bypass strips are always very popular. The looping musician community buys a lot of our microphone A-B switchers and our Boss RC series aux pedals.
In the past year, what have been some of your favourite products that have come out, whether from Australia or abroad?
I really like the sounds from the empress reverb. Diamond also re-released a version of their discontinued compressor SE with the SL which is an audiophile version with high quality components. Keeley as also released some great pedals over the past year like the Tone Station.
If you are not at Loopi, where else would you be found, what are your passions?
I have a young family so if I'm not working I'm playing with my boys.
When it comes to your own gear, what does your current rig look like?
My current electric rig looks like this. Line6 g50 > Pigtronics Philosopher's tone > Xotic RC Booster > Boss Blues Driver > Timmy > Jekyle & Hyde > Diamon Memory Lane Jr > Strymon Timeline > Strymon Blue Sky > TC Trinity (HOF) into a Peavey classic 30. My guiatars are a Fender Eric Clapton "Blackie", Gibson 339, and a shop guitar Fender modern player Tele with Shur pickups.
Acoustic rig is Boss Tu-2 tuner > Aphex Acoustic Exciter > TC Hall of Fame > Radial J49 DI running a Maton ecw80c
What are some of your favourite music releases of the last year?
Biffy Clyro (2016 release Ellipsis), Bowie, Nick Caves – Skeleton Tree was great. Snarky Puppy's new album, Culcha Vulcha, I really enjoyed as well but the album of the year has to be Phil Collins "Singles" album.
And to finish off, here is some Snarky Puppy