Artist Guitars Stratocaster review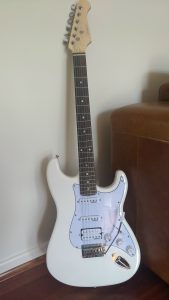 After reviewing the Artist ES 335 and loving the quality build, I thought that I should give another of theirs a try to make sure that it wasn't a fluke. So I decided to pick a guitar that every beginner will probably want to at least consider and picked up the Artist Strat. Now this site was created to look at what we can buy here in Australia, that is quality and that is actually available, so I thought the Artist range was a great place to start. This post also forms a bigger picture of affordable gear for beginners (and/or experimenters). So without further ado, here is my opinion on this guitar.
 Playing the Artist Stratocaster
The strat that I ordered is in the Humbucker – Single – Single configuration, maybe not the absolute traditional setup however this is a great setup for the beginner who is wanting to get a range of sounds out of their gear and may not be able to go out and buy an SSS model and a HH model in something else. It has a good bit of grunt in the Humbucker position, but not a massive amount (which is to be expected from a Strat), from the single coils you will get that iconic twang.
The neck on this guitar is seriously good with a nice matte finish which makes playing a breeze. I would also say that you could easily pay the $169 for the guitar for a neck of this quality, so it is really worth the money that you pay for it.
The tremolo is not a floating trem, which means that you will get a lot more tuning stability than you would with a Floyd Rose or other floating trem system. There is enough give in the tremolo to give the sound you are looking for, without the added hassle of constantly re-tuning the guitar, which is especially good for the beginner guitarist.
This is a great guitar to play, the neck is super quick, the controls are easy to use – although the non-floating tremolo may be a little difficult to get used to for some (it's quite stiff, meaning that you may worry you will snap it). Overall, though this is a good quality guitar that far outweighs it's price tag. My feeling is that it may even be better than a lot of the low-end Squire models of recent years especially given the great QC that Artist put into their products.
Quality
One of the main issues that you will run into with a lower price guitar is the build quality, which is a realistic issue. Companies build lower priced guitars at bigger factories with less quality control, so the things that you need to look out for are poor paint jobs, rough fret edges, poor setup and intonation and faulty electronics among other things. This can be a bit of a problem as dropping around $200 for a guitar for a beginner can be an issue if you have immediate problems with it, and it isn't exactly enticing to play a guitar that you have a problem with.
As with the ES 335 – the Artist Stratocaster came beautifully out of the box. There were no issues with setup, relatively low and if I was keeping it I would get it professionally setup (or look at the some of the numerous resources online for same). Artist take pride in their QC and locally clear every guitar both in factory and in Australia before they are sent out, so it is rare that there will be an issue. As mentioned previously on posts about this brand, if you are unhappy with the product you have 100 days to return it at no cost to yourself.
Despite this being a review product that I send back at the end, I have to say of both the ES 335 and this Stratocaster that I would have happily kept them to add to my collection, and actually to suit my style of play I may well pick up one of the 335s in the very near future. If you are a classic/rock/beginner layer I would really recommend this as a good purchase.
Overall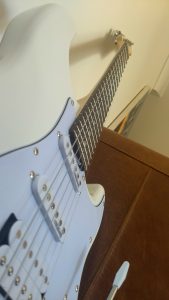 If you are looking for a first electric guitar, for a low price this is the one for you, if you have a teenager who may not follow through again this is the one for you. For the price this is also a great guitar for a modification and personalisation, especially with the quality of the neck. The $169 price point also includes a good quality gig bag, clip on tuner, strap and access to online lessons.
If you want to pick up one of these models, be sure to check them out to buy here.
The Essentials
Name: Artist STH
Build: Stratocaster Basswood body with Maple Neck and rosewood fretboard
Price: $169
Hardware: Wilkinson pickups – HSS configuration (SSS also available)
Comparable model: Squire Bullet, Squire Mustang
Musical Style: Blues, Classic Rock, Popular Rock
Please note that links in this article are affiliate links to Artist Guitars, all opinion on these products are my own.