Artist Guitars Review – Cherry58 Semi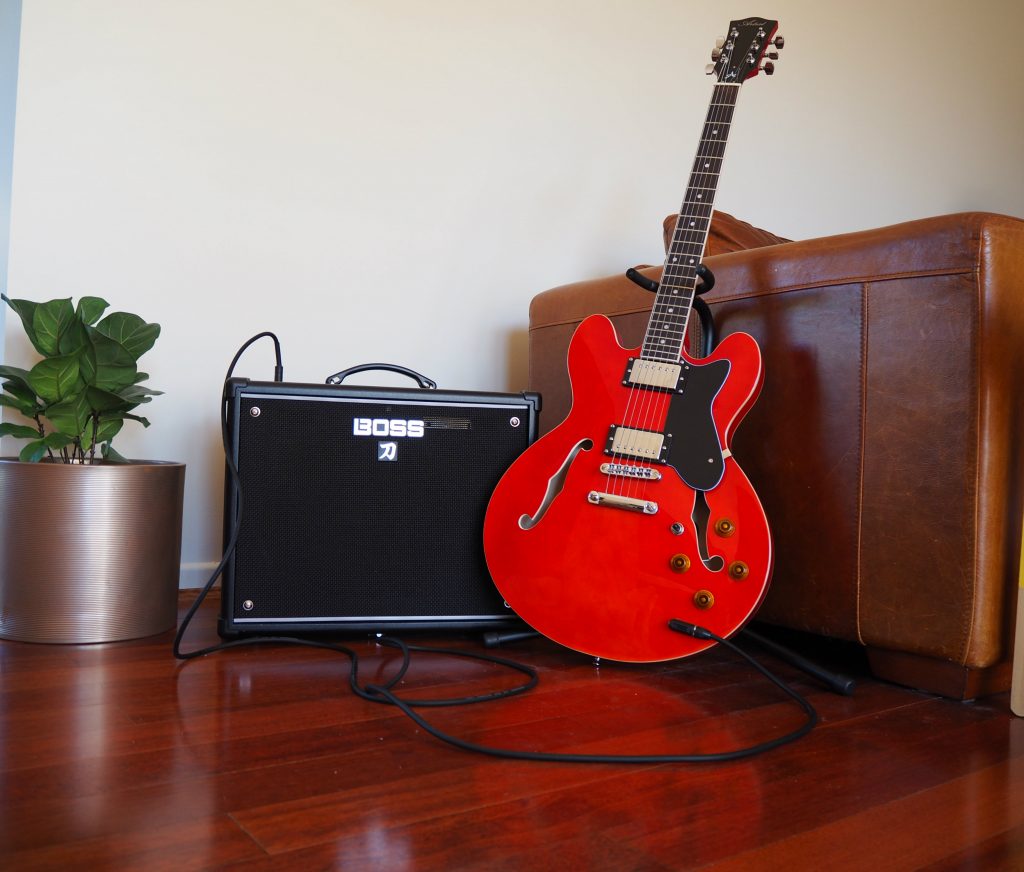 I was lucky enough to test play the Artist Guitars Cherry58 for the past few weeks and thought that I would give a review of it for the readers. I did a feature piece on Artist Guitars previously and they are a great company providing a great priced product to the average guitarist or learner.
From Artist:
The Artist CHERRY58 is the perfect entry level guitar for those wishing to learn Blues and Jazz music. It has an all Maple Neck and Maple Body, Rosewood Fretboard, 24 frets with 'Dot' shaped plastic inlays, a SET-NECK for awesome 'Blues' Solo access, tunomatic bridge and Stop-Bar Tailpiece design for good sustain.
It also has chrome covered Humbuckers with Alnico V magnets, so you can switch from warm fluid Neck Pickup solos and warm clean sounds, to, the Bridge Pickup for Blues solos.
Playing
I have been playing the Cherry through the new Boss Katana 50 (which is awesome by the way) on both a clean and dirty channel. As can be expected the Cherry plays awesome bluesy type music with a nice chime to it, however add a bit of drive and those humbuckers really come into their own. I really loved an overdriven tone with this guitar in particular, the humbuckers had a chunky tone and sounded especially good before the point of breakup when the roar and sustain was at it's best.
Now, as a caveat, you aren't going to get metal out of this guitar, but were you really expecting that? The Cherry is definitely in a great place for Blues, Classic and Pop Rock. There is a good amount of space there to play around with the higher frets for bluesy work. The Cherry also has a great fat neck on it (Modern C shape) which I found it pretty easy to navigate.
As with any guitar you could probably get any tone out of this one that you wanted, especially given that you do have the standard 3 way selector and tone and volume controls for each pick up. In saying this however, I think that it is best suited in both sound and style to artists such as BB King and Chuck Berry, but also pop rock such as the Foo Fighters (Dave Grohl plays a Gibson 335 off which this based).
Quality
For the price of $299, this is an incredibly built guitar. There were no issues with sharp frets, which can sometimes be an issue with cheaper builds and overall the guitar came pretty well setup in the box. There was minimal tuning to be done, which tells me that this guitar has probably been tuned and test played in the factory, or through the quality control process (which Artist pride themselves on)
There were a few tiny issues, some scuffs on the wood, however this was not a structural issue and was buffed off easily, the same with some issues on the chrome.
The Service
It may not be absolutely essential for the buyer, however service is a big indicator of the quality of a company and particularly their ability and willingness to back up their own products. I have to say that the service from Artist was impeccable. Unfortunately my order was claimed by the Australia Post vortex, headed from NSW to VIC to Qld and then back again. This was no fault of Artist at all, but they answered emails and tried to offer solutions to the problem.
Above all of this, remember that Artist have a 100 day return policy on their items and they are really proactive about making sure that you get what you want or need. If you buy something as a gift and it's just not right, give them a yell and they will be all over it, ensuring that your needs are met. For the market that they are aiming at, the everyman player, this is particularly important as the investment in a guitar is often an important one and you won't be stuck with something that doesn't work for you.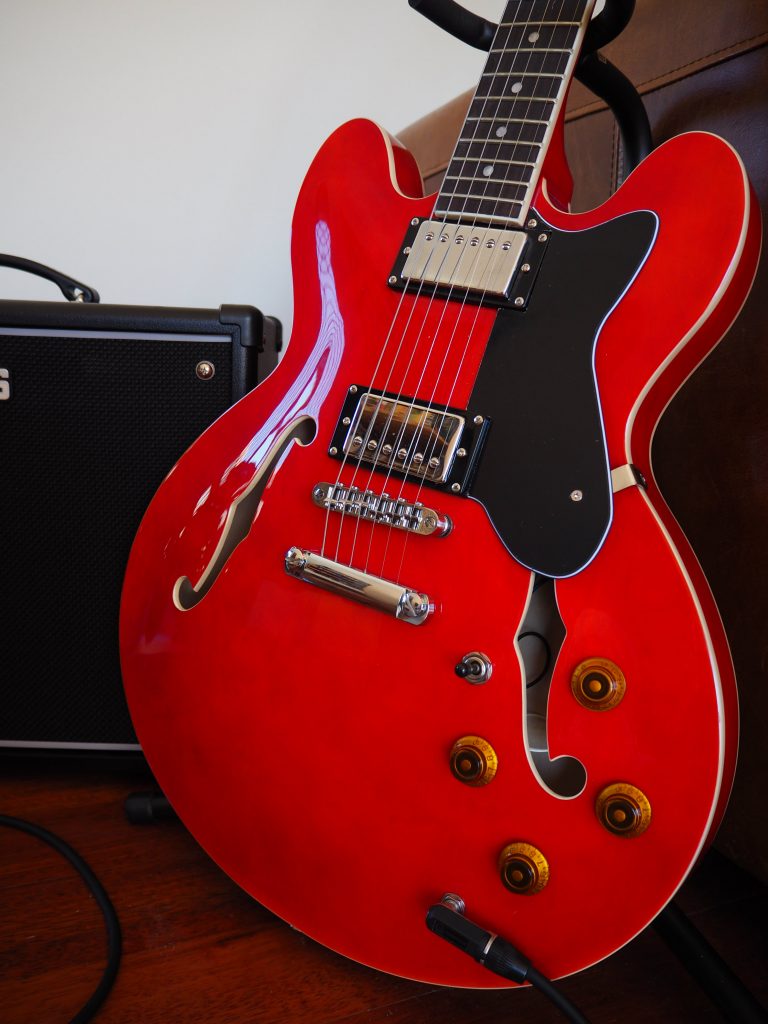 Overall
If you are an aspiring Blues player or classic rock player then I would definitely recommend this guitar to you. If you are looking for a semi hollow-body to add to your quiver, then again for the price this is an incredible buy. In comparison, for something like the Epiphone Dot, you are looking at around $500 if you get a really good deal on it. From playing several Epiphones over the years I would say that the build quality of the Cherry is either as good or better than these guitars.
You want it? Buy It Now!
The Essentials
Name: Cherry58
Build: Maple ES 335 Style
Price: $299
Hardware: Chrome covered Alnico V Humbuckers (Bridge and Neck); Chrome Tune-o-Matic bridge
Comparable model: Epiphone Dot
Musical Style: Blues, Classic Rock, Popular Rock