Featured Builder – Anarchy Audio
It's time for us to look at another of the awesome Australian builders, last time it was Ormsby Guitars, so this time we are looking at effects – particularly Anarchy Audio. I had the opportunity to do an email interview with Johannes from Anarchy on his thoughts on the industry and how he got started. The Australian industry is such a small one and I saw that Anarchy has a lot to do with Ormsby.
So down to the questions that were put to Johannes:
How long have you been working in the pedal industry and what got you involved?
I grew up around electronics due to my father being an electrical technician/repair man, so a lot of audiophiles were popping in and out of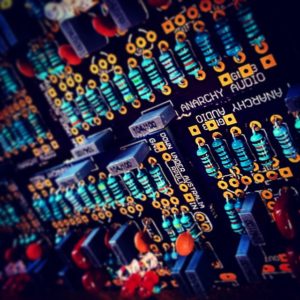 the house. As I was a guitar gear nerd, I was more interested learning about guitar tube amplifiers, modding them and maintaining them.
I wasn't really that interested in building pedals, until one day, when dropping off some guitars to Perry Ormsby around 2005, he sold me a distortion+, a delay and a tubescreamer kit, and I was hooked.
But I got bored of the paint by numbers approach and went down the rabbit hole learning how classic pedal circuits worked and got completely obsessed with the tubescreamer and Big Muff anatomies.  Bought a whole bunch of used, cheap and broken pedals to see how they were constructed and how they failed. From that I started honing my skills in on circuit designs, pcb layout disciplines and construction techniques…and, built a lot of custom pedals for local musicians.
In 2011 Anarchy Audio was established and I feel we are just at the very start of making a name in the music industry.
How has the increase in boutique pedal demand impacted your business, do you find that your clients perform in bands, or are they at-home players?
It certainly keeps me busy, there is always something to do. My current workload is split about 50/50 with production pedals and custom builds.
I'd also guestimate that it's a 50/50 split of gigging musicians and home players. At the end of the day, I think players are just looking for something to help them be inspired to create music or play the instrument.
Which is a good thing. Whether it's digital setups or old school analog…or a mixture of both…isn't it a great time to be playing guitar?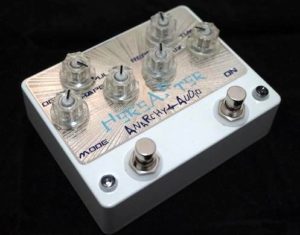 What are some of your current favourite products from Anarchy and what are you currently working on?
I don't build anything I won't use on my own personal board and I feel each of the pedal in the line up covers a style of player, genre or set-up. That said, I'm really proud of the Gold Class, for it's tone enhancement and the Reignmaker, which took quite some time to get the gain stages and EQ right. The recently release Hereafter Delay/Chorus is also getting a lot of playtime …especially when paired with a loop station type pedal.
Apart from that, I'm always working on limited run style pedals as well as custom orders…and am currently working on a way to allow more easier custom order options via some changes on the website. I'm also keeping busy with a collaboration with Mike Foo of Tritone amplifications on a tube preamp pedal, which has had some design challenges, but it will be worth it in the end.
What style of music do you enjoy and, if you play, what is your current go-to guitar rig?
I just love guitar music. Anything from really aggressive and abrasive death/grind/crust/metal, to Progressive Rock/Metal, Jazz Fusion, Pop,Rock, Post Rock, Soul, RnB, Electronic and Experimental music.
My current setup is a 2 amp stereo setup consisting of a Framus CS Ruby 30W EL84 Amplifier and 2×12 cab (running mismatched V30+GB speakers) and a modified Jet City JCA EL84 20W with 1×12 Cab with an Eminence V128.
Both are Soldano inspired circuits, and I'm a big fan of using an amp set on the verge of clean and crunch, enough so I can use my right hand to crunch things up, or roll back the volume for cleans…and of course use pedals.
How I use pedals generally tend to be on opposite ends of the spectrum: Certain pedals are the icing and I'll have them set really transparent or subtle in the mix (parallel fx loops work really well for this) and other pedals…I just want to pummel the front of my amp so hard that it sounds offensive.
Anything else that you would like to say about Anarchy, or about the Australian built market in general?
Anarchy Audio is really, a small owner/operator style setup. A lot of locals are surprised that we don't have a showroom or staff (I have actually started taking on some help to ease up the workload)
I try to design products to suit everyone, whether it's just something to enhance your amp sound, give your clean combo amp a high gain distortion or fuzz…to something a bit out of the ordinary…and I love doing custom builds and limited small run type stuff. I tend to not think in terms of industry or market…I'm really just in this to build quality products ….and people who are into gear seem to really dig it.
As you can see, Anarchy Audio is built on the idea of 'build it (quality products) and they will come' and is another example of great Australian manufacturing. Anarchy can be found on Instagram, Facebook, Youtube and can be purchased online and instore at several stores around Australia and the world – check out their page for a list of suppliers. 
If you have experience with Anarchy Audio, or have a suggestion of another company for us to cover, please let us know below in the comments.