Featured Builder – Ormsby Guitars
Ormsby Guitars is one of the very few Australian owned and built electric guitars. Given, Australia does have a few makers when it comes to the acoustic side of things, but on the electric side there are very few. This website was created to both support and explore the Australian guitar buying, building and repairing industry, so I thought that Ormsby would be one of the best places to start. If you have any further suggestions of other companies that we should cover, please let us know in the comments.
The Ormsby guitar shop, according to their website, is run by only 5 people including Master Luthier Perry and varied other staff, from social media, to shipping and building. The shop builds less than 100 guitars in a given year, with the focus being on quality and consistency. The vast majority of the work is done by hand by the builders and the finishes are quite astonishing when you see them. If you want to check out the Custom Shop page of their website, you will see some of the most incredible finishes on a guitar.
Perry Ormsby was good enough to answer some questions about Ormsby Guitars, the Custom shop industry and his passion for guitars.
Perry says that Ormsby was founded in 2003 and went into fulltime building in 2004, had always worked with his hands and had completed 2 apprenticeships prior to starting Ormsby – in Carpentry and Cabinet Making. The first guitar he ever made was called the 'Vine'. It was a carved top, set neck guitar with a Mother of Pearl vine inlay up the neck. He states that he is a huge fan of 80's hard rock and metal. Big riffs, big hair, big personalities.
Inspiration
"Sometimes I see a piece of wood and just know exactly what it needs to be" – Perry Ormsby
If you check out the Ormsby website you will see that this isn't your standard 'We make Strats and Les Pauls' Custom shop and this is for good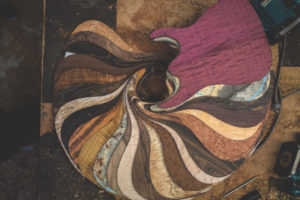 reason.  Perry, like probably a lot of people looking at a custom guitar, gets tired of seeing the same thing all the time when it comes to guitar makes. Perry says that he is passionate about timber and loves to use exotic species, and especially those that take some time to find. As a result, each guitar is inspired by the timber that is found, rather than starting with an idea and then finding the wood to fit it.  From the site you can see that there are burls in timber worked into a piece, even some that have bush fire damage to them as seen in one of Perry's videos for NAMM.
Market
I asked Perry about the market for boutique pedals and whether this has fed the market for custom guitars. He says that it is probably the opposite, that people tend to want a custom guitar but due to the high price of entry it may not be possible, as a result people tend to buy what they can afford (Ormsby actually built pedals up until 2009). From what they have seen, a lot of clients are tending towards the modelling amplifiers more and more (such as the Kempers, Line6 and AxeFx).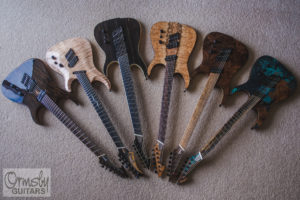 Most of the market for Ormsby are for performing artists but there are also some who 'noodle about in their bedroom' – Perry doesn't care where the guitars go, just as long as the people playing them have a passion for guitar.
I also asked Perry about what people should know about buying a custom piece and he gave some great advice:
The entry price is often high, for good reason – you are paying for expertise and hours of work;
Time lines are often long – you buy from the best and they are a small crew and it takes time..Have a 4 week turnaround and a third of the price of everywhere else? You may be dealing with someone very new or inexperienced;
Know what you want but have realistic expectations –  this is your custom, but it can't do everything. "Let is be it's own thing…not a mixture of everything that pops into your head"
You can follow the links to Ormsby in this post – Jared Dines also used one of the Ormsby models in his new Shred Wars video, on Instagram and Facebook.