EHX Nano 360 Looper Review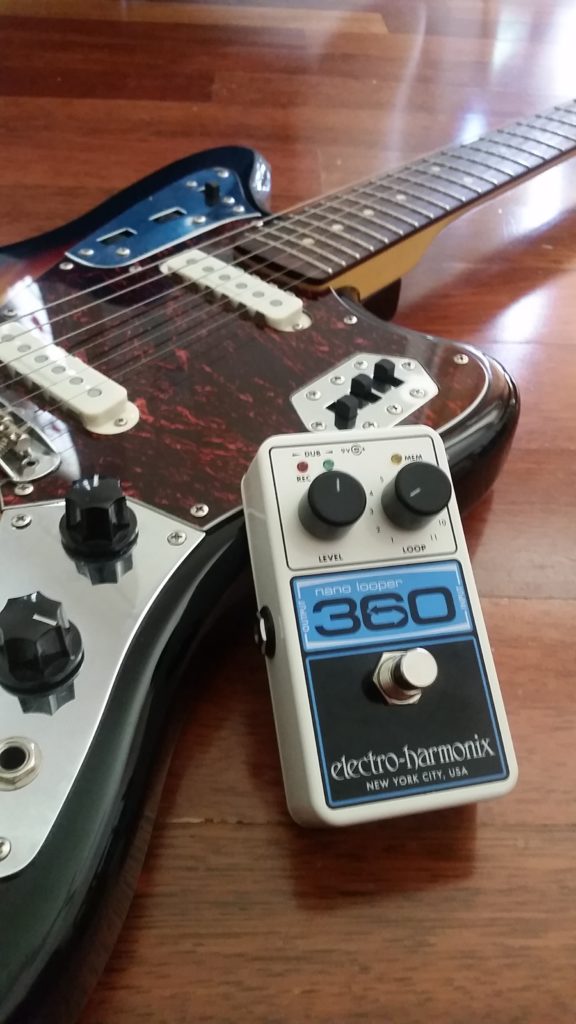 I was going to be influenced by the most popular sellers of last year and buy the TC Electronics Ditto Looper, but there was a few things that threw me off, most notably that I couldn't save loops between playing sessions. The EHX 360 Looper, however, allowed me to do that. The 360 stands for the fact that this looper has 360 secs of looping capacity across 11 slots. That means that you can have 11 x 36 sec loops or 1 x 360 sec loop or anything in between.
The looper has a non-latching switch which is perfect for looping (you don't want that pesky click as part of your loop do you?) and it is pretty easy to use overall. The other awesome thing about the 360 is that it actually comes with a power supply – a power supply with a pedal you say? – that's right a power supply. The pedal runs off this supply and does not have a 9v battery compartment, but that is really no big deal, as it's entry point comparison, the Ditto has neither included power supply or the ability to run off battery.
The pedal is easy to use, however make sure that you read the short instruction leaflet included so that you don't accidentally end up deleting loops as you go. There is plenty that this thing can do as a simple looper, anything from layering or laying a bass line or for the beginner to listen back to how they are sounding through the amp without background noise. Looping is a skill of it's own and you can find plenty of examples online, but with only a little bit of effort I found my self building strange and weird soundscapes in no time, even without any delay or other effects in front of the looper. The 360 also has 2 LEDs which indicate whether you are recording or playing a loop, so that you can ensure you don't accidentally play over something….but….you can also undo the most recent overdub anyway!  There is also a 3rd LED which indicates whether there is a loop recorded at your selected memory slot.
There are only 2 knobs to worry about 'Level' – which is the mix of dry/wet signal and 'Memory' for selecting the memory slot that you wish to save to.
If you are a rookie and wondering things like 'Will this suit my amp/guitar' then the answer is yes, loopers fall into the category of recording pedals, so you needn't worry if you are playing a Les Paul or a Warlock, a looper is a non-denominational pedal. If you are a buyer for a player, I would strongly recommend something like the EHX 360 to you for fine tuning your player's skill, helping with timing, building layers in songs or even just remembering and experimenting with riffs.
In terms of build quality, the 360 lives up to the EHX standard, sturdy aluminium body and well put together, this thing is going to withstand some serious stomping in the future and will live to tell the tale. It is also a compact sized pedal, which means that it isn't going to take up a massive amount of space on your pedalboard. I would definitely be recommending this to anyone who is looking for a pedal that is easy to use and has the ability to store loops.
You can pick up the EHX 360 Looper in Australia from most major retailers from between $170-240.
Check out the best prices on Ebay here.